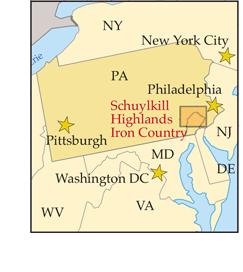 You are invited to explore the Iron & Steel Heritage and Recreation region located in and around the Schuylkill Highlands Conservation Landscape and Hopewell Big Woods, the finest natural preserve in our region. We encourage you to select from the many locations depending on your schedule, or a self-guided heritage tour blending history and recreation to discover the Iron & Steel Landscape's many "Faces of Freedom."
Etched into the natural landscape of portions of Pennsylvania's Chester, Berks, Montgomery and Lancaster Counties are sites that celebrate the iron and steel industries that literally forged our nation. Starting in the early 1700's, immigrants came seeking a better life. The region produced cannons and munitions that helped George Washington and The region witnessed the struggle to end slavery and welcomed the nation's first female industrialists. Immigrant labor in iron-county contributed to the Union cause during the Civil War Immigrants helped make our nation an industrial giant by the start of the 20th Century.
We invite you to enjoy waterways and hiking trails through woodlands, farms and fields; to explore historic towns and villages; and to tour ironmaster mansions and 300 years of industrial sites. From National Parks and outdoor recreation; to specialty farms, mini breweries and vineyards; to quiet villages or urban night life…morning, noon, and night we have it all!