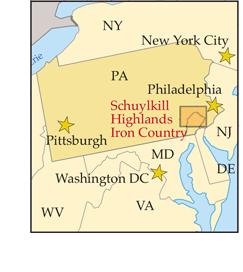 Explore the Iron & Steel Heritage and Recreation region located in and around the Schuylkill Highlands Conservation Landscape and Hopewell Big Woods, the finest natural preserve in our region. Etched into the natural landscape of portions of Pennsylvania's Chester, Berks, Montgomery and Lancaster Counties are the sites that celebrate the iron and steel industries which literally forged our nation. We invite you to enjoy waterways, woodlands, farms and fields; to explore historic towns and villages; and to discover the ironmaster mansions and 300 years of industrial sites which reflect the contrast between technology and rural living in this region.
Starting in the early 1700's, immigrants came seeking a better life. Using the area's natural resources, they helped build a nation during the American Revolution. In the 1800's, they were joined by other immigrants from around the world fighting to save the country during the Civil War, and then leading it into massive industrialization and on to become a world power. This region saw the struggle to end slavery and welcomed the nation's first female industrialists. Its stories and places boast a longer history with the iron and steel industry than any other region in the nation.
The new Schuylkill Highlands Iron and Steel Heritage Scenic Byway along Route 23 from Valley Forge National Historical Park to Elverson Borough is an all inclusive gateway. From National Parks to farms and vineyards, 18th and 19th century communities, to urban night life...morning, noon, and night we have it all!