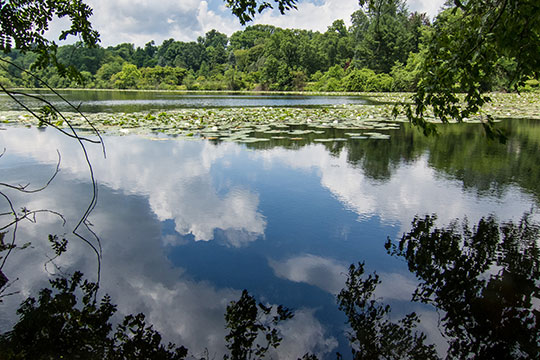 Welkinweir
Welkinweir is a 197-acre oasis of natural beauty located in the pastoral heart of northern Chester County. The former estate features a 55-acre arboretum, historic estate house, and ecologically diverse woodland, wetland, and meadow habitats. The property is a living laboratory for the study of ecological issues, sustainability, and land stewardship, offering inspiration and education for visitors and the local community. Welkinweir is the home of Green Valleys Watershed Association, a nonprofit with a mission to protect, preserve, and restore the natural waterways of northern Chester County. The arboretum and surrounding natural lands are open Monday to Friday from 9 a.m. to 4:30 p.m. There is no admission but donations are greatly appreciated. Private tours of the estate house & gardens are available for groups by advance reservation only (fee charged).
---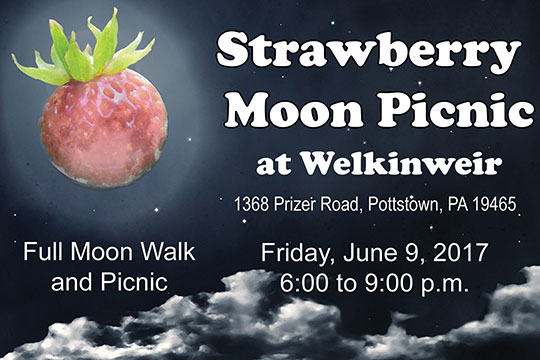 Strawberry Moon Picnic
6:00 to 9:00 p.m.| Free
Pack a picnic dinner and watch the moon rise over Welkinweir! Explore the mysteries of the "Strawberry Moon", take in a live birds of prey presentation, gaze at the night sky with the Chester County Astronomical Society, and then enjoy s'mores over a campfire. S'mores and lemonade provided. BYOB. Rain or shine.
This program is free, although donations are appreciated and benefit Green Valleys Watershed Association.
Online registration encouraged at www.greenvalleys.org. Contact GVWA at 610-469-4900 or gva@greenvalleys.org for more information.