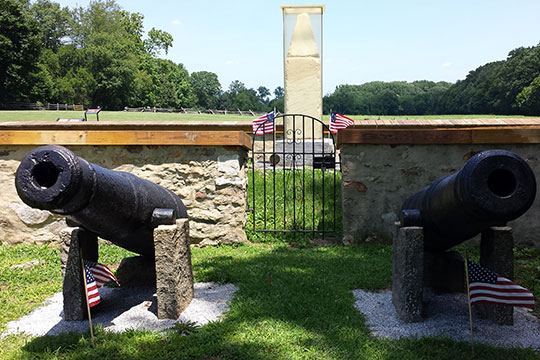 Paoli Battlefield Historical Park
Revolutionary War Battle site which pitted nearly 4,000 of the best British and American soldiers in a midnight raid where Redcoat atrocities named it the "Paoli Massacre". The ninth bloodiest battle of the War of Independence, it spawned America's first battle cry, Remember Paoli, heard throughout the war and beyond.
In 1817, veterans built the 2nd oldest war monument in the nation and started a tradition of annual parades honoring veterans that continues to this day.
Two large cannons, forged in Chester County iron furnaces then hidden underwater in a creek, were recovered nearly 100 years later and guard the 1817 monument.
Open to the public with interpretive signs and information.
Paoli Battlefield will be a Town Tours & Village Walks destination on August 10, 2017.
---
Revolutionary Lecture/Dinner at the General Warren Inne
6 p.m. to 8 p.m. | $49/person
Join us in the 5th year of our acclaimed dinner and lecture series at the top-rated Zagat restaurant, the historic General Warren Inne located at 9 Old Lancaster Road, Malvern PA 19355.
The Inn played an important role in the Revolutionary War Battle of Paoli. The event is informal and comfortable, where relaxed interaction with guests and the speakers is the norm.
The buffet is especially created based on 18th Century recipes. The speakers are noted historians and living history interpreters and authors whose books can be purchased and autographed. The July 19 event is "Revolutionary War Music" featuring Charlie Zahm on Tuesday, July 19th. Go to www.RememberPaoli.org for registration and details.