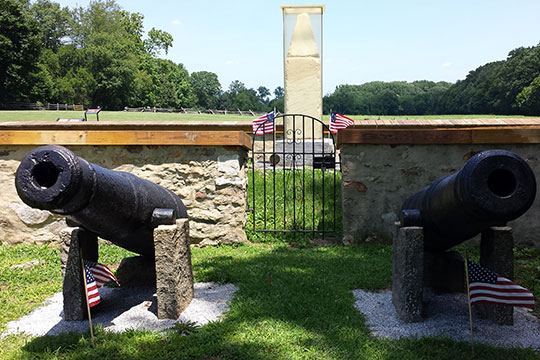 Paoli Battlefield Historical Park
Revolutionary War Battle site which pitted nearly 4,000 of the best British and American soldiers in a midnight raid where Redcoat atrocities named it the "Paoli Massacre". The ninth bloodiest battle of the War of Independence, it spawned America's first battle cry, Remember Paoli, heard throughout the war and beyond.
In 1817, veterans built the 2nd oldest war monument in the nation and started a tradition of annual parades honoring veterans that continues to this day.
Two large cannons, forged in Chester County iron furnaces then hidden underwater in a creek, were recovered nearly 100 years later and guard the 1817 monument.
Open to the public with interpretive signs and information.
---
Revolutionary Delaware Lecture/Dinner at the General Warren Inne
6 p.m. to 8 p.m. | $49
In 1776, Delaware declared independence from both England and Pennsylvania. Originally known as the Three Lower Counties of Pennsylvania, the First State was instrumental in the fight to form a new republic. The Marquis de Lafayette, Nathanael Greene and George Washington all made trips to the state. Caesar Rodney's ride and the Battle of Cooch's Bridge are legendary, but the state has many unsung heroes. Citizens from every village, town, crossroads and marsh risked their lives to support their beliefs. Author Kim Burdick offers the carefully documented story of ordinary people coping with extraordinary circumstances. Join us on Monday, November 13th as we welcome back author Kim Burdick who will talk about her new book Revolutionary
The all inclusive admission price is $49 per person which includes the 18th century American Fare Buffet, all soft beverages and coffee, family style sweets during the question and answer session, all tax and gratuities, the lecture, and a donation to help support the Paoli Battlefield Historical Park. Your admission also includes a raffle ticket for a chance to win a night's stay at the General Warren Inne.
Go to www.pbpfinc.org for registration and details.