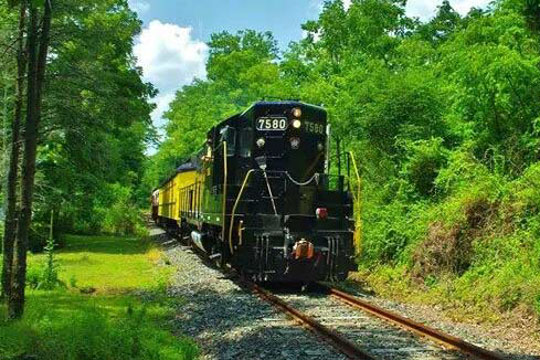 Colebrookdale Railroad
Lost in the deep woods sheltering the Manatawny and Ironstone Creeks is a mythical secret valley. Though today only white-tailed deer, great blue heron, and bald eagles know the beauty of this legendary land, it was once the province of pioneers and patriots.
Their stories can be heard in the soft winds whispering through the tall trees and towering trestles of the Colebrookdale Railroad - a magical, forgotten railway to the heart of this Secret Valley. The "Secret Valley Line" is your ticket to a place and time when iron rails connected a divided people and the heart of the nation pulsed with the potent energy of the steam locomotive.
Completed by soldiers home from the Civil War just four months after the Transcontinental Railroad united the East and West, the Colebrookdale is a record of epic engineering and heroic human drama. Eight-point-six miles long and a century-and-a-half back in time, the Secret Valley Line beckons you to experience for yourself the unexpected treasures of Southeastern Pennsylvania.
---
Secret Valley Excursion (Vegan Dinner)
6:00PM
Adults (13-64) $30 to $175
Children (2-12) $23 to $47
Seniors (65+) $25 to $150
Toddlers (<2) $5 to $15
Just for vegetarians, vegans, and all those who appreciate fine, local, fresh food!
These Secret Valley Excursions feature a vegan menu on our Dining Car only, prepared by Firefly Café of Boyertown. They use locally sourced ingredients are fresh and sourced from local vendors.
Deluxe Coach serves beverages only.There is no meal offered on Deluxe Coach.
First Class Parlor includes vegan hors d'oeuvres, a keepsake Colebrookdale Railroad glass, and your first fill of that glass is on us.
Buy Tickets Here.