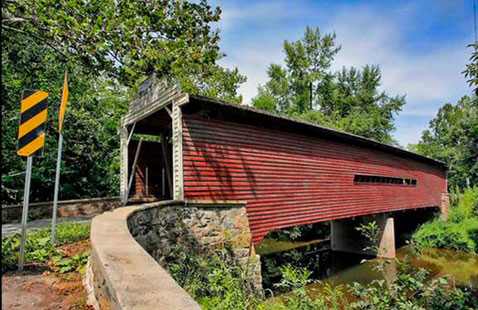 Sheeder-Hall Covered Bridge
Built in 1850, the Sheeder-Hall Covered Bridge is the oldest standing covered bridge in Chester County. It was a crucial component of transportation in the 19th century transporting people and goods over the French Creek named for Huguenot Jacques LeTort, fur trader along the creek. It was also critical to the operation of the region's iron furnances. William Branson was an early iron pioneer who established the Vincent Forge later to become the Young's Forge. The bridge was named to the National Register of Historic Places in 1973. This bridge is a Burr Arch Truss, 100 feet long and 15 feet wide.
The bridge is located on Hollow Road, north of French Creek Rd. N 40 08.86 W 75 37.24
The Sheeder-Hall Covered Bridge will be a stop on the July 14th Town Tours and Village Walks Trolley Tour. Click here for more information.