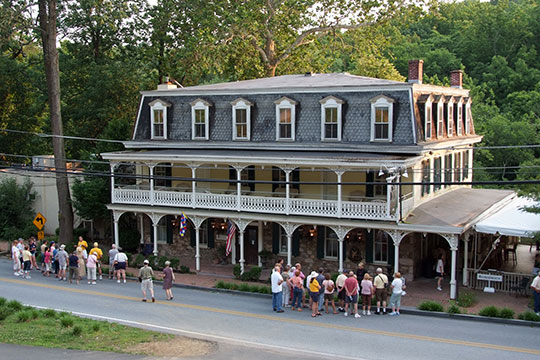 St. Peters Village Historic District
Nestled among many acres of quiet forest Saint Peters Village is home to historic residences and quaint shops and restaurants. This former company town has not changed much since the late 19th century, when they provided housing for the workers of the region's now-silent iron mines and granite quarries.
Visit the railroad trestle bridge over French Creek and see the remnants of the iron shaft mine and granite quarry that once supported the town.
This charming industrial village grew up around the falls of French Creek beginning in 1845. Proximity to the French Creek iron mines brought prosperity and the creation of a rural village to support the mining and shipping of iron ore. The village was an important quarry site and visitors can still explore the dramatic black granite outcroppings. Today the village features interesting and unique shops, a fabulous bakery, and the Inn at St. Peters offering fine dining and lodging.

St. Peter's Village : Forging Freedom Tour Site 7
3471 St. Peters Road
St. Peters, PA