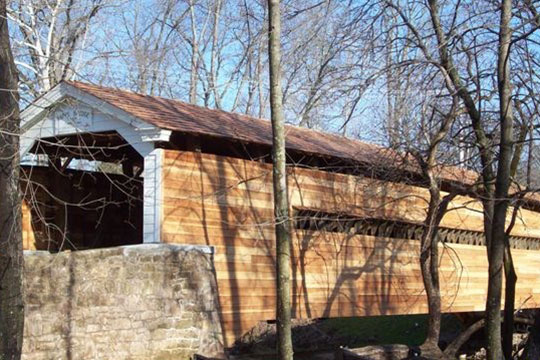 Rapp's Dam Covered Bridge
Ironmasters needed the water from French Creek to operate their furnaces, but for travelers the Creek posed an obstacle. Bridges like Rapp's Dam Covered Bridge, which is still in use today, helped them to cross these important waterways. With its ornate white portals and weathered cedar sides, Rapps Bridge is one of the prettiest and most interesting of the Chester County Bridges. The 105 foot long bridge was built in 1866 and is named for George Rapp, who operated the nearby mill, known as Snyder's Mill.
Rapp's Dam Covered Bridge crosses the French Creek on Rapps Dam Road between Routes 113 and 23 in East Pikeland Township. This bridge was constructed in 1866 by Benjamin F. Hartman and is one of 15 surviving covered bridges in Chester County. It is a Burr Truss bridge and 105 feet long with fieldstone abutments, horizontal siding and boxed cornices. It was placed on the National Register of Historic Places in 1973. The French Creek Trail can be entered here and you can view the site of the Continental Powder Works as well as the Snyder Mill.