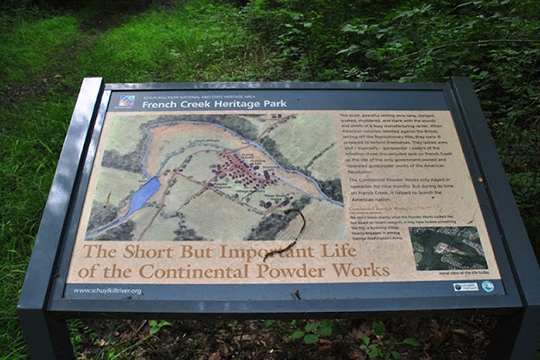 Continental Powder Works
The historic powder mill was built in 1776, after there was a shortage of gun powder by a proclamation of King George III, which stopped any exports of the powder to America. The mill was established in a remote area, which is now Kimberton near French Creek, and was designed to be able to produce two tons of powder per week.
The mill's superintendent was Peter De Haven. The land consisted of a dam, mill race, powder mill, graining mill, saltpeter house, four drying houses, powder magazine, and a powder master's residence. The mill was burned by the British Army in 1777.
In the years following in the early 19th century, the property was owned by Casper Snyder, Jr., and his two sons, Henry and Thomas, who operated a grist and saw mill, powder mill, linseed oil mill, and spoke mill. French Creek Heritage Park, on French Creek Trail, commemorates the Continental Powder Works, which was the only powder mill and gun factory commissioned by the Continental Congress and which supplied General Washington's army with gun powder and musketry in the early part of the Revolutionary War.

Continental Powder Works: Supplying Freedom Tour Site 7
1158 Rapps Dam Road
Phoenixville, PA 19460