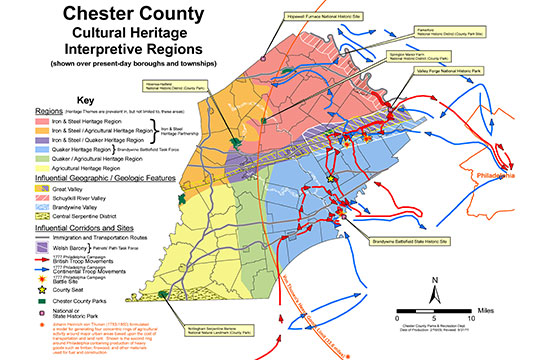 Chester County Planning Commission
As one of three original counties founded by William Penn in 1682, Chester County enjoys a rich and vitally important role in the development of this country. To encourage and support the identification, preservation and interpretation of our historic structures and landscapes, the Planning Commission offers technical assistance for preservation plans and historic resource surveys with financial assistance available through the Vision Partnership Program.
Town Tours & Village Walks is a series of free summer strolls through historic neighborhoods, hamlets, villages and sites. This summer, you can explore Chester County's heritage on Thursday evenings, June 9 – August 25. Tours generally last 50 minutes and begin at 5:30 pm with the last tour leaving at 7:00 pm unless daylight allows for additional tours. Each tour is designed to inform, entertain and increase awareness of Chester County's rich heritage and historic landscape. A number of our sites offer a good selection of restaurants and shops to enjoy after your tour.