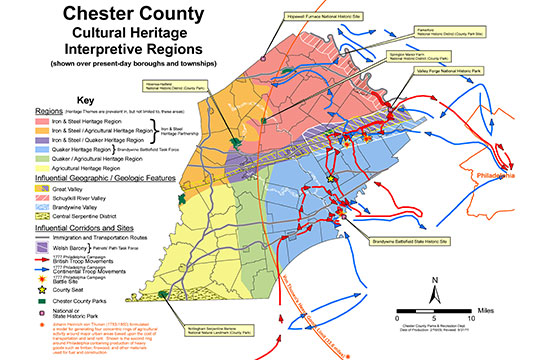 Chester County Planning Commission
As one of three original counties founded by William Penn in 1682, Chester County enjoys a rich and vitally important role in the development of this country. To encourage and support the identification, preservation and interpretation of our historic structures and landscapes, the Planning Commission offers technical assistance for preservation plans and historic resource surveys with financial assistance available through the Vision Partnership Program.
Town Tours & Village Walks is a series of free summer strolls through historic neighborhoods, hamlets, villages and sites. This summer, you can explore Chester County's heritage on Thursday evenings, June 9 – August 25. Tours generally last 50 minutes and begin at 5:30 pm with the last tour leaving at 7:00 pm unless daylight allows for additional tours. Each tour is designed to inform, entertain and increase awareness of Chester County's rich heritage and historic landscape. A number of our sites offer a good selection of restaurants and shops to enjoy after your tour.
---
Town Tours & Village Walks - Event 11
5:30 PM | Tour Free
Brandywine Meadow Farm: Home of Charles E. Mathers Brandywine Hounds, c. 1901
Sponsors: Radley Run Country Club; Birmingham, Pocopson, and East Bradford Township Historical Commissions; & the Friends of Brandywine Battlefield. Including a visit from the Radnor Hunt and a 25th Town Tour Anniversary Optional Dinner!
Join us to tour this fascinating historic complex. Located in the heart of the Brandywine Battlefield at the intersection of three townships, the early Painter's property influenced and contributed to each for three centuries but never became a village. You will learn how the 1770 James Painter Mansion house, the Penn charter 1749 Samuel Painter, Jr. house, and the Lye house ruins (where a large fulling operation existed) formed the basis for a 20th century estate. Next you can explore the tradition of fox hunting as you tour the Huntsman and Kennelman houses and the renovated stone barn designed by Charles Mather for up to 50 horses.
Please Note: First tour begins at 4:30 pm, last tour begins at 7:15 pm. The Anniversary Celebration buffer dinner for $20.00/person will be served 5:30 – 8:00 pm. If you plan on staying for dinner please RSVP to Kim Jones at 610-793-1660 in advance, then pay when you arrive and get your ticket.
Parking & Registration: Radley Run Country Club, 1100 Country Club Road, West Chester. The only entrance open will be off Birmingham Road. Please follow signs for parking.