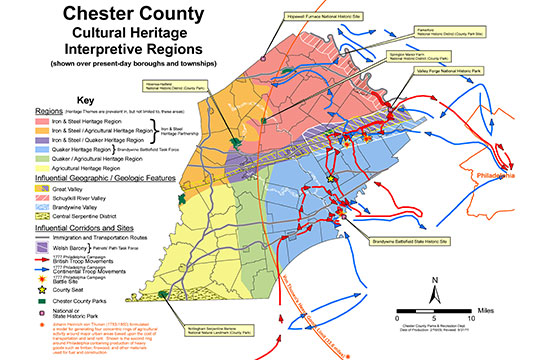 West Chester — Chester County Planning Commission
As one of three original counties founded by William Penn in 1682, Chester County enjoys a rich and vitally important role in the development of this country. To encourage and support the identification, preservation and interpretation of our historic structures and landscapes, the Planning Commission offers technical assistance for preservation plans and historic resource surveys with financial assistance available through the Vision Partnership Program.
2020 Virtual Town Tours & Village Walks
Beacons of Pride — Architecture, Artistry, and Personal Expression
Explore architecture, artistry, and personal expression in the exciting 26th annual Town Tours and Village Walks Program. This new Virtual Summer Series for 2020 has been designed to highlight our rich cultural heritage in Chester County while protecting your health and safety. Starting on July 16th, six favorite historic sites will present virtual "Live at Five" programs on Thursdays throughout July and August. Join the summer fun and sign up today, as we creatively continue our tradition of excellence with our free 2020 Virtual Town Tours and Village Walks Programs.
The 2020 Town Tours and Village Walks Virtual Summer Series will take place virtually through Zoom, a free video conferencing software for use with computers, tablets and cell phones. Our programs are free and sign-up is required by following these three simple steps.
Sign up for the Virtual Webinars by going to the "Sign Up" links listed below.
Click "register" and check your email for an Eventbrite confirmation that will provide you the Zoom Link for the Webinar.
Attend the "Live at Five" Webinar on the date for which you registered using the Zoom Link provided by Eventbrite.
Event contact: Nancy Shields at 610-344-6285 or nshields@chesco.org
We anticipate sharing the programs online following their live presentation.