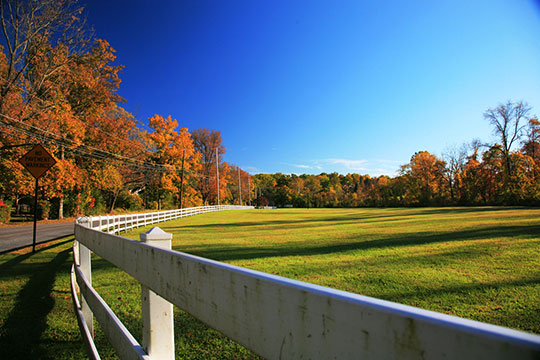 West Pikeland Township - Pine Creek Park
Pine Creek Park at 1488 Yellow Springs Road is a community park open to all. It encompasses 70 acres where you find a playground, nature trails, a creek and sports fields that support the youth of the area. Located in West Pikeland Township, it also supports the open space program of the municipality.
West Pikeland was established in 1838 when the land grant of William Penn in 1704 to Joseph Pike (Pike's Land) was divided into West and East Pikeland. The Lenape Indians welcomed early settlers of English and Welsh descent who were soon joined by German settlers to farm this rich land. A health spa was established at Yellow Springs utilizing the mineral waters found there and the Revolutionary War Hospital was built to provide medical assistance to the Valley Forge encampment. The Pickering Valley Branch of the Reading Railroad Co. was laid out in 1871 to carry milk from dairy farms to local creameries and also to transport iron ore from local mines to the Phoenix Iron Company. Mills such as Anselma, Clover Mill, Pine Creek and Chester Springs Mill abounded to grind the grains produced. Churches, one room school houses, the Civil War Orphan School, the Country School of the Pennsylvania Academy of the Fine Arts, fox hunting, fishing and a movie production company all contributed to life in West Pikeland Township.
Photo by William Richmond.