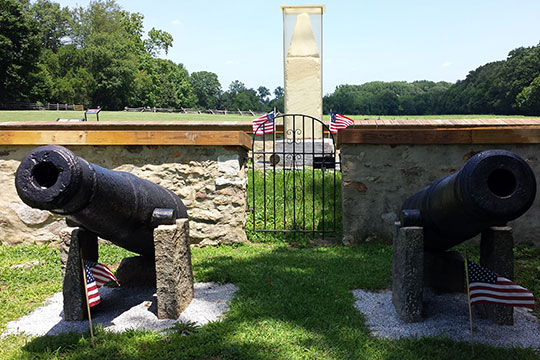 Paoli Battlefield Historical Park
Revolutionary War Battle site which pitted nearly 4,000 of the best British and American soldiers in a midnight raid where Redcoat atrocities named it the "Paoli Massacre". The ninth bloodiest battle of the War of Independence, it spawned America's first battle cry, Remember Paoli, heard throughout the war and beyond.
In 1817, veterans built the 2nd oldest war monument in the nation and started a tradition of annual parades honoring veterans that continues to this day.
Two large cannons, forged in Chester County iron furnaces then hidden underwater in a creek, were recovered nearly 100 years later and guard the 1817 monument.
Open to the public with interpretive signs and information.
---
Revolutionary Lecture/Hors d'oeuvres at the General Warren Inne
6 p.m. to 8 p.m. | $39/person
Colonial Dancing:
Colonial Music and Dancing with Charlie Zahm, Tad Marks, Noah Lewis, and Lynne King.
We had such a grand time at last year's event we decided to do it again – learn the dance moves that our early ancestors did out on the dance floor at balls and other social gatherings while listening to the period music.
Join us for heavy hors d'oeuvres and dancing at the top-rated Zagat restaurant, the historic General Warren Inne located at 9 Old Lancaster Road, Malvern PA 19355.
For more information and reservations click here.