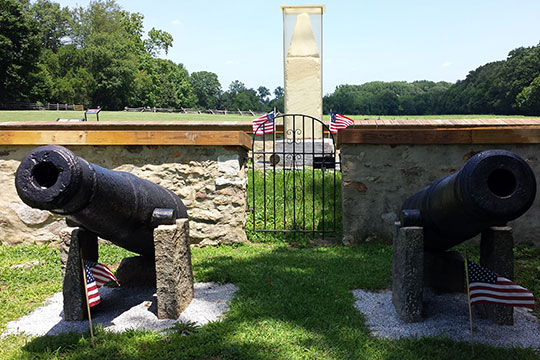 Paoli Battlefield Historical Park
Revolutionary War Battle site which pitted nearly 4,000 of the best British and American soldiers in a midnight raid where Redcoat atrocities named it the "Paoli Massacre". The ninth bloodiest battle of the War of Independence, it spawned America's first battle cry, Remember Paoli, heard throughout the war and beyond.
In 1817, veterans built the 2nd oldest war monument in the nation and started a tradition of annual parades honoring veterans that continues to this day.
Two large cannons, forged in Chester County iron furnaces then hidden underwater in a creek, were recovered nearly 100 years later and guard the 1817 monument.
Open to the public with interpretive signs and information.

Paoli Battlefield Historical Park: Supplying Freedom Tour Site 10
Heritage Stop at the intersection of Monumental and Wayne Avenues, Malvern

484-320-7173