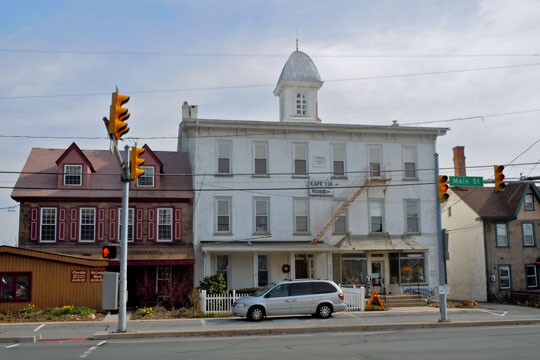 Morgantown
Morgantown was named after Colonel Jacob Morgan, who laid out the town around 1770. His father, Thomas, had been a native of Wales, a captain in the French and Indian War, and owner of a large tract of choice land in Caernarvon Township.
Jacob Morgan, a Philadelphia merchant, settled in this area around 1765, building a large stone house, which still stands on Hartz Road between Mineview Drive and Shiloh Road. It is rumored to have housed George Washington during a brief overnight visit. The house has been restored by its owners.
Since the arrival of the Turnpike in 1950, the town has changed from a quiet, mostly agrarian village, to a busy commercial and industrial center. Visitors can also follow 23 West for an interesting side trip to Poole Forge.

Morgantown: Forging Freedom Tour Site 4
Heritage Stop at the intersection of Routes 23 and 10