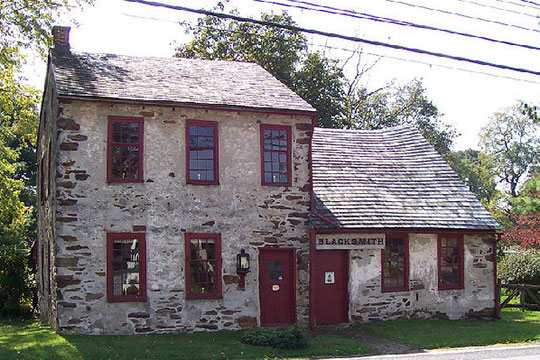 Marshallton Village and the Campaign of 1777
The village of Marshallton, originally a Quaker settlement, was first settled in the 1760s. Primarily an agricultural community, the settlement flourished as a crossroad village due to its proximity to Strasburg Road and nearby waterways. Strasburg Road became an official state road in the 1790s. This development established it as the main route between Philadelphia and Lancaster, and further insuring the village as a prime location for industries such as blacksmithing, wheelwriting, cooping and milling. Other businesses included a cigar shop, shoe maker, tin smith and barber.
During the American Revolutionary War the iron industry in this region supplied critical munitions to the continental army. The village is located in the most northern section of the Brandywine Battlefield where Generals Washington and Howe met on the filed of battle on September 11, 1777 with 30 thousand soldiers.
Today the village provides and interpretive link between the story of iron and steel production and the American struggle for independence.