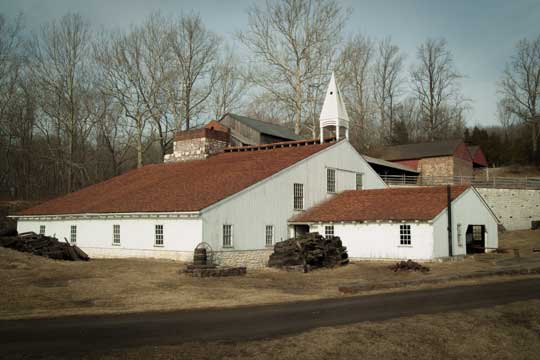 Hopewell Furnace National Historic Site
This rural iron furnace experienced every social and political event of the 19th century and contributed to the quest for equal opportunity for African-Americans and women.
From providing war materials to the American Revolution and the Civil War to transforming women's lives, the furnace products impacted life in the United States and beyond.
Hopewell Furnace showcases an early American industrial landscape from natural resource extraction to enlightened conservation. Operating from 1771-1883, Hopewell and other "iron plantations" laid the foundation for the transformation of the United States into an industrial giant. The park's 848 acres and historic structures illustrate the business, technology and lifestyle of our growing nation.
Tour the historic village using the Voices of Hopewell to meet the original residents. Living History interpreters on site during the summer. Great recreation stop for all seasons.

Hopewell Furnace: Forging Freedom Tour Site 1
Grounds & Restrooms
Open Daily 9 AM - 5 PM
Visitor Center & Buildings
Open Wed - Sun 9 AM - 5 PM
No Entrance Fee
2 Mark Bird Lane
Elverson, PA 19520
610-592-8773