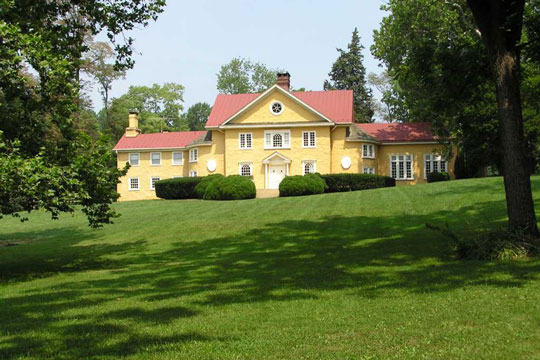 Hibernia County Park
A 19th century iron plantation with over 900 acres, including the 90 acre Chambers Lake, Hibernia features historic ruins along with the iron masters mansion redesigned in the early 20th century to emulate a English county house.
The 1st owner of the property now known as Hibernia was George Harrison, a weaver, who lived here from as early as 1744 until he sold the land to Samuel Downing in the early 1790's. He may have lived in the part of the mansion that was the original farmhouse. Downing built the 1st iron forge at Hibernia on the West Branch of the Brandywine to convert pig iron into bar iron. The iron works property passed through several ownerships from 1808 until 1821, when Charles Brooke purchased the property and became its most prosperous ironmaster.
By 1850, the Hibernia Iron Works, also known as Hibernia Forge, included two iron forges, two heating furnaces, a rolling mill, grist mill, the mansion, and several houses for the employed families. There was also a farm, gardens, orchards and other improvements. These all helped Hibernia become a self-sustaining operation for the Ironmaster family and hired staff, as well as for the 16 men and boys, their families, and the 18 oxen, horses, and mules which worked at producing the iron.
Hibernia United Methodist Church
Originally founded by Charles Brooke for his family and the workers at Hibernia Iron Plantation the church is a nice stop after visiting the park. Charles Brooke and other members of his family are buried there. Located next to the park at 220 Hibernia Rd, Coatesville.