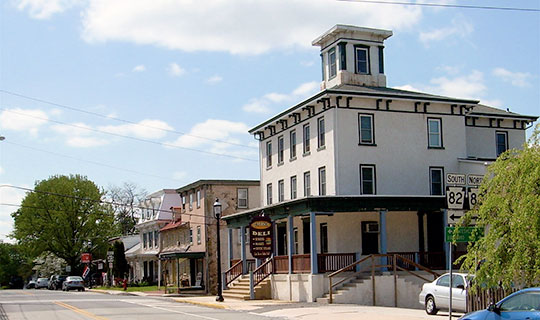 Elverson Borough Historic District
Originally part of West Nantmeal Township, early settlement in the area of present-day Elverson responded to its situation along an established trade route from Lancaster to the French Creek iron furnaces at a location where travelers had access to three strong springs. Situated on the edge of Chester County and looking westward into the broad Conestoga Valley of Lancaster and Berks Counties, there are regional records of iron ore being dug here in the late 17th century.
Elverson's earliest settlers arrived in the late 18th century and were attracted by the nearby iron mines, which supplied iron ore to the area's many furnace. It remained largely rural until the arrival of the Wilmington and Northern Railroad in 1870. By 1883, the town's population had more than doubled. In 1899, the settlement was named after James Elverson, owner of the Philadelphia Inquirer.
Elverson's building styles follow the periods of its commercial growth, and range from early 19th century stone or log buildings to post-railroad structures and 20th century craftsman and Foursquare style houses. Commercial and residential development since the 1950s has occurred largely on the outskirts of the borough's historic center, which contains shops and a variety of eating places.

Elverson: Forging Freedom Tour Site 5
Heritage Stop at the intersection of Routes 23 and 82