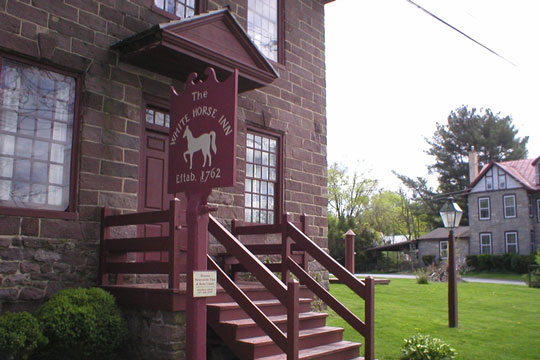 Morlatton Village
Morlatton Village represents pieces of an early Swedish Settlement begun in the early 1700's, when Berks County was still the frontier. Structures constructed slightly later in the 1760's also comprise the village. During Colonial times, the area became a center of commerce for the region as a routing center for refined iron from Pennsylvania's earliest furnaces and for grains from the Oley Valley heading downriver to Philadelphia. Morlatton's importance grew as roads leading to Tulpehocken, Oley, Reading, and Philadelphia all intersected at its doorstep. Morlatton Village can be viewed as where Berks County began, and also as its gateway.
Today, Morlatton Village consists of the following preserved, historically significant buildings (and is paralleled by the Thun Trail):
Mouns Jones House (1716)
Bridge Keepers House (1730 or 1830)
George Douglass Mansion (1763)
White Horse Inn (Circa 1762)
Douglassville Covered Bridge (1832-1952)
The Douglassville bridge was one of twelve covered toll bridges in Berks County, and spanned the Schuylkill River. From the edge of Morlatton Village, parts of the original structure can be viewed submerged in the river. The resident of the Covered Bridge Keepers House was responsible for the upkeep of the bridge, including snow shoveling during winter.
Thun Trail
Dedicated in 2006, the Thun Trail provides a biking/hiking link to Historic Morlatton Village. The Thun Trail connects the Schuylkill River Heritage Area trail from Pottsville to Philadelphia. The trail was constructed on the rail bed of the former Pennsylvania Railroad (est. 1883).

Douglasville: Forging Freedom Tour Site 10
31 Old Philadelphia Pike
Douglasville, PA 19518
610-385-4762