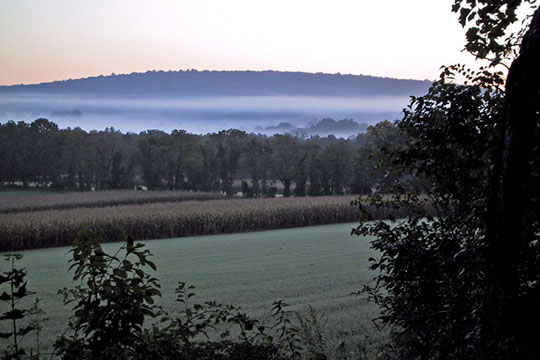 Crow's Nest Preserve
Crow's Nest Preserve is made up of 621 acres of woodlands, meadows, and crop fields along French Creek. Crow's Nest is the gateway to the Hopewell Big Woods, a 73,000-acre expanse of forest that reaches north into Berks County. Just next door, you'll find French Creek State Park and Hopewell Furnace National Historic Site, making Crow's Nest part of one of the largest areas of protected land in the region.
Crow's Nest Preserve is composed of four 19th century farms assembled into one farm in the 1960s. The first parcels of the preserve were donated to Natural Lands Trust in 1991. The Trust manages the land for native habitat as well as for agricultural and passive public use.
Visiting these farm sites highlights the fact that in the 18th and 19th centuries, the iron industry and rural agriculture existed, mostly harmoniously, side by side.
The preserve includes over 7 miles of unpaved trails ranging from moderate to difficult; and a connection to the Horseshoe Trail.

Crow's Nest Preserve: Forging Freedom Tour Site 5a
Open Daily Sunrise to Sunset
Free Admission
201 Piersol Road,
Elverson, PA 19520
610-286-7955