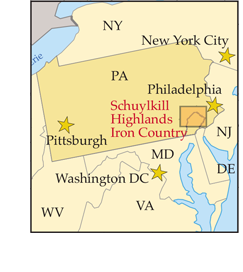 Explore the Iron & Steel Heritage and Recreation region located in and around the the Schuylkill Highlands Conservation Landscape and Hopewell Big Woods, one of America's finest natural preserves. Etched into the natural landscape of portions of Chester, Berks, Montgomery and Lancaster Counties in Pennsylvania are the remains of this industry that literally forged our nation. We invite you to enjoy pristine streams, woodlands and open fields and to explore historic villages, ironmaster mansions, and iron and steel history reflecting the contrast of technology and rural living in this region.
Starting in the early 1700s, immigrants from Europe and Africa came seeking to use the area's natural resources to create a better life for themselves and stay to build a nation during the American Revolution. Joined by immigrants from around the world, their spiritual descendants fought to save the country during the Civil War, led it into the Industrial Revolution, and on to be a world power. The region saw the struggle to end slavery and welcomed the nation's first female industrialist. As a result, no other region in the nation can boast a longer history with the iron and steel industry.
While urban areas led the political call for freedom and a new nation, our Iron Country, with its abundant natural resources, fueled it. We hope you will enjoy our suggested itineraries as you examine the Iron & Steel region's many faces of freedom, which began at Independence Hall in Philadelphia.
The new Schuylkill Highlands Iron and Steel Heritage Scenic Byway along Route 23 from Valley Forge National Historic Park to Elverson Borough will connect the fun! From National Parks to vineyards, 18th and 19th century hamlets and ironmaster plantations, to urban night life…we have it all! We invite you to explore at your own pace, and hope you enjoy our self-guided tours blending history and recreation.