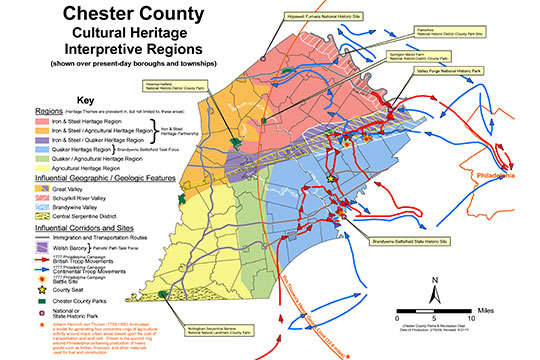 Chester County Planning Commission
As one of three original counties founded by William Penn in 1682, Chester County enjoys a rich and vitally important role in the development of this country. To encourage and support the identification, preservation and interpretation of our historic structures and landscapes, the Planning Commission offers technical assistance for preservation plans and historic resource surveys with financial assistance available through the Vision Partnership Program.
Town Tours & Village Walks is a series of free summer strolls through historic neighborhoods, hamlets, villages and sites. This summer, you can explore Chester County's heritage on Thursday evenings, June 9 – August 25. Tours generally last 50 minutes and begin at 5:30 pm with the last tour leaving at 7:00 pm unless daylight allows for additional tours. Each tour is designed to inform, entertain and increase awareness of Chester County's rich heritage and historic landscape. A number of our sites offer a good selection of restaurants and shops to enjoy after your tour.
---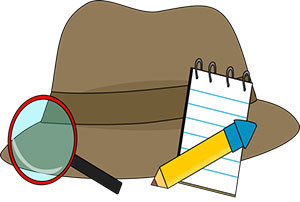 Town Tours & Village Walks - Week 10
6:00 PM | $15
Limited to 50 participants.
Advanced Reservations Required!
Supper & Lecture at the Springs — The Mills of Chester County
Sponsor: Chester County Historic Preservation Network
Come experience Historic Yellow Springs from a completely new perspective. Chester County Historic Preservation Network invites you to enjoy a box-supper and listen to Preservation Architect Dan Campbell, AIA, speak about the history of milling in southeastern Pennsylvania and the process of locating and identifying mills, whether still existing, re-purposed or in some degree of decay. This engaging perspective on Chester County's milling legacy will be in preparation of the tour of Bondsville Mill on August 30th and will inform you as you continue to explore our historic landscapes on your own.
$15.00 will include the lecture, a box supper and refreshments, and a guided stroll of the grounds after dinner, weather permitting. Call 610-344-6923 or email kmarshall@chesco.org to make your reservations.

---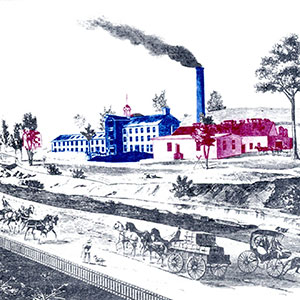 Town Tours & Village Walks - Event 11
5:30 PM | Free
The Evolution of Power and Fabric Production at Bondsville!
Sponsor: East Brandywine Township
Bondsville Mill, located in East Brandywine Township, operated as a textile mill from 1841 through 1954 (over 100 years). An important feature of the Mill is the evolution of power sources used there as new technologies became available over its period of operation. Materials were manufactured for a wide variety of products over that time, including: civil war uniforms, top brand name jeans, car seat upholstery, and a velvet material known as "plush", to name a few. The Mill was significant to the area, creating its own community complete with school, post office, general store, and housing, and employed 350 people in its heyday. The Mill is currently part of a Township Park that combines its regional heritage with a large natural area (47 acres in all) that is now traversed by a network of trails. Rehabilitation of the Mill is a work in progress, with much already done and more planned.
Parking & Registration: East Brandywine Township Building, 1214 Horseshoe Pike, Downingtown. Groups will be shuttled from the township building to the Mill for tours then back to the Township Building.