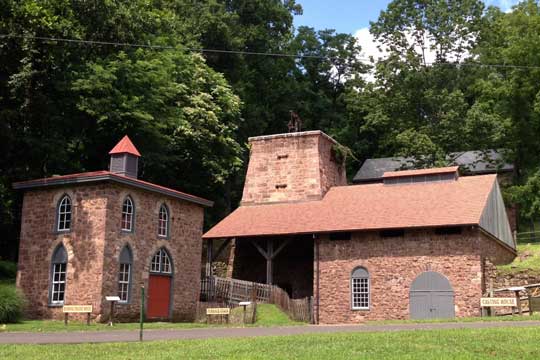 Joanna Furnace
Nestled in an area rich with iron ore, abundant woodland for charcoal, limestone, and waterways to provide power, lies Joanna Furnace -- a historic remnant of Berks County's thriving early iron industry. Unlike today's corporations with their large buildings and complex hierarchies, the 19th century iron industry at Joanna Furnace was the product of rugged individualism. From the semi-wilderness of Robeson Township, in 1791, Joanna Furnace was started by Samuel Potts, Thomas Rutter III, Thomas May and Thomas Bull. The furnace was named in honor of Pott's wife Joanna Holland Potts.
---
Christmas at Joanna
Friday – 5 to 9 pm
Saturday – 4 to 9 pm
Sunday – 4 to 9 pm
Admission: Adults $7.00, Children 12 & Under Free
A vintage Christmas celebration nestled in a captivating, nighttime historic setting.
Victorian Decorations
Catch a glimpse of Christmas past by entering the Historic Mule Stable. The smell of fresh baked treats . . . anise jumbles, ginger snaps and the home baked bread will fill your senses as you pass through the kitchen where mother and daughters plan the sweetest of surprises.
Christmas Market
The Christmas Market features a wide variety of juried crafts and food items. With over 30 stands to shop you can purchase a variety of Christmas gifts and holiday party items. Our Christmas market has ornaments, hand- carved Santa's, home décor items, handspun wool products, candles, jewelry & lockbox jewelry boxes, Christmas cookies, candies, cakes, and cheeses to name just a few of the gifts in our market.
Wagon Rides
What a better way to get into the Christmas spirit than to take an old fashion wagon ride with your family through the historic Joanna Furnace iron plantation! Rides run continuously though the site that is illuminated with special lighting.
Bonfire Entertainment
Nestle up by our roaring bonfire and listen to holiday songs sung by Joanna's Carolers. Visitors are encouraged to sing along and enjoy stories of Christmas legends told by our own Ghost of Christmas Present. Beware! Lest you feel the switch of the Belsnickel across your back—if you have not been a good child. However, all "good children" will be rewarded with a sweet treat.
Luminary Pathways
Stroll the luminary pathways throughout the Joanna Furnace complex and feel the charm of 1,000 glowing candles.
Live Nativity
Returning this year to Christmas at Joanna is the live nativity presented by The Living Rock Bible Church from Elverson, Pa. You will see the live re-enactment of the Nativity of our Lord. So come experience the Christmas Story and make a public witness to the true meaning of Christmas.
Joanna Furnace Walking Tours
Learn what it was like to live on an 18th & 19th century iron plantation. Tours will run at 6:15 & 7:15 pm all three nights.
Heart-Warming Foods
Delicious foods and drinks prepared by Hay Creek Valley Historical Association volunteers will be available to purchase throughout the week-end. Items include: Sausage Sandwiches, Hot Dogs, French Fries, Soup, Soft Pretzels, Bottled Water, Coffee, Hot Chocolate, and Hot Mulled Cider.
For more information go to https://www.haycreek.org